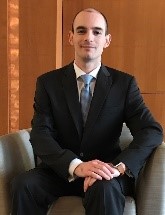 Michael
Ellis, CFP®, CRPC®
CERTIFIED FINANCIAL PLANNER™
Michael L. Ellis, CFP®, CRPC® - Mike Ellis has been the operations analyst with Madden Advisory Services, Inc. since March of 2018. In July 2019, he assumed a role as a financial planner and received his certification as a CERTIFIED FINANCIAL PLANNER™ in December 2019. He offers issue-based and comprehensive financial planning, with a concentration around retirement and goal planning.
Prior to starting with Madden Advisory, Mike worked at Merrill Lynch as an advisor for 3 years where he specialized in comprehensive investment and retirement plans for small businesses and individuals. Mike earned his Bachelor of Science in Management from Clemson University with a minor in Military Leadership. He contributed 7 years of service in the United States Army and ended his service as an Infantry Officer, including a combat deployment to Afghanistan.
Mike is a member of the Florida chapter of the Financial Planning Association and involved in his church, Creekside Christian Church. He is married with three children and enjoys spending time outdoors.